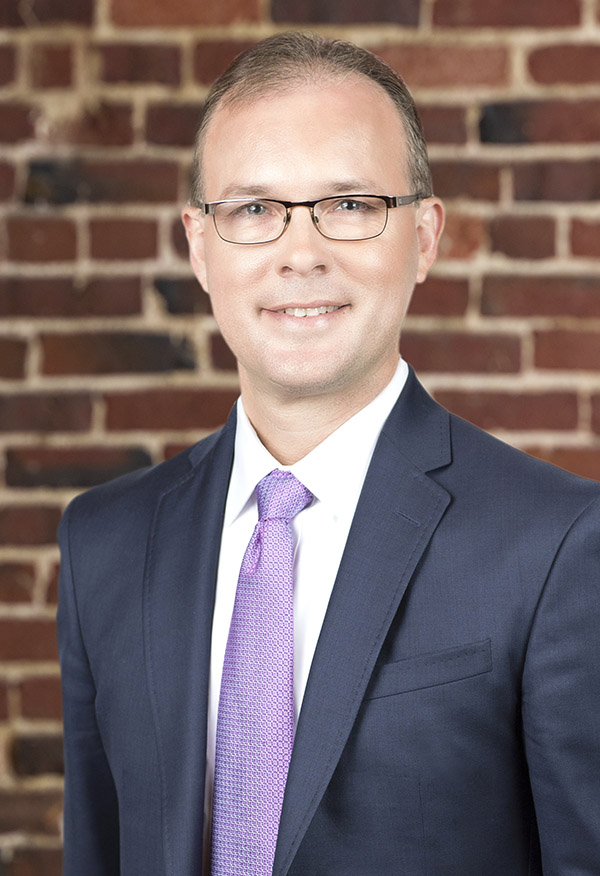 C. Dewayne Lonas
Shareholder
1211 East Cary Street
Richmond, VA 23219
(804) 864-4820
(804) 421-6251 (fax)
dlonas@moranreevesconn.com
Dewayne Lonas engages in complex, high stakes litigation across Virginia and around the country, primarily in the areas of commercial litigation and product liability. He also has extensive experience litigating premises liability, professional liability and trucking cases.
Dewayne's product liability practice is focused on the vigorous defense of designers and manufacturers of outdoor power equipment and industrial machinery.  He also serves as national coordinating counsel for a major designer of food processing equipment. Although Dewayne has tried numerous product liability cases involving wrongful death and catastrophic injury to verdict, he has developed expertise challenging the qualifications and opinions of experts who criticize the thoughtful design choices of his clients and obtaining summary judgment in risky jurisdictions in cases involving devastating injuries.
As a part of his product practice, Dewayne routinely provides risk management for his clients, which includes the drafting of product literature, instructions and warnings, and interaction with regulatory bodies.
As a commercial litigator, Dewayne has tried numerous cases to verdict in matters involving breach of contract, insurance coverage, business torts, and real estate and construction law.  He also has a robust practice litigating trade secrets, deceptive trade practices, and the laws and regulations surrounding the banking and mortgage industry.
Dewayne is AV-rated by Martindale-Hubbell, and has been selected a Virginia Super Lawyer in both business litigation and product liability defense for the better part of the past decade. He serves on the Admissions Committee of the Federation of Defense and Corporate Counsel, and sits on the board of directors of the Richmond Chapter of the Federal Bar Association. He is also one of a handful of Virginia lawyers in the prestigious Trial Attorneys of America.
Education

University of Virginia School of Law, Charlottesville, Virginia, 1999; J.D.

Law Journal: Virginia Environmental Law Journal, Member, Managing Board, 1998 – 1999
Hardy Cross Dillard Fellow in Legal Research and Writing, 1997 – 1999

Centre College, Danville, Kentucky, 1991; B.A

Bar Admissions

Virginia, 1999
U.S. District Court Eastern District of Virginia
U.S. District Court Western District of Virginia
U.S. Court of Appeals 4th Circuit

Professional Associations and Memberships

Virginia State Bar
Federation of Defense and Corporate Counsel, Admissions Committee
Defense Research Institute –  Commercial Litigation, Trucking Defense, and Product Liability; former chair, Agricultural, Construction, Mining & Industrial Equipment subcommittee
Trial Attorneys of America
Board of Directors, Federal Bar Association, Richmond Chapter Bar Association of the City of Richmond
Virginia Association of Defense Attorneys

Honors and Awards

Virginia Super Lawyers (Business Litigation, 2014-2016; Product Liability Defense, 2017-2022
Virginia Business Legal Elite (Business Law, 2016)
AV-rated by Martindale-Hubbell

Representative Cases

Summary judgment to convenience store operator in negligence case involving fall on wet tile (United States District Court for the Eastern District of Virginia, Nov. 2021)
Summary judgment to meatsaw designer and manufacturer in strict liability action for defective design and warnings (Superior Court of New Jersey, Hudson County, May 2019)
Arbitration award for damages and attorneys' fees on behalf of German radioisotope manufacturer for cleanup of production plant and disposal costs (July 2018)
Appellate decision granting summary judgment to equipment manufacturer on failure to warn claim (New York Supreme Court, Appellate Division, First Department, June 2017)
Summary judgment to lawnmower designer and manufacturer in wrongful death case alleging design and warnings defects (United States District Court for the Western District of Virginia, Oct. 2015, affirmed by the Fourth Circuit Court of Appeals, July 2016)
Summary judgment to truck stop owner in case involving allegedly defective shower (United States District Court for the Western District of Virginia, May 2016)
Summary judgment to defendant premises owner in negligence case involving alleged defective parking lot (United States District Court for the Western District of Virginia, Apr. 2012)
Successful motion to strike all of plaintiff's contract claims on behalf of defendant professional basketball player (Fairfax County Circuit Court, Feb. 2012)
Plaintiff's verdict in slip-and-fall case against owner and operator of show cave (Page County Circuit Court, June 2011)
Summary judgment in breach of contract case for German manufacturer of radioactive sealed sources and award of attorneys' fees as prevailing party (United States District Court for the Eastern District of Virginia, Apr. 2011 and July 2014; affirmed by Fourth Circuit Court of Appeals, Jan. 2013 and May 2015)
Defense verdict in $2 million wrongful death case against bulldozer manufacturer (Loudoun County Circuit Court, Sept. 2010)
Plaintiff's verdict for general contractor in construction dispute with Richmond homeowners (Richmond Circuit Court, Sept. 2008)
Defense verdict in $10 million product liability case against backhoe manufacturer (Henrico County Circuit Court, Mar. 2007)

Publications

"Misuse: Do Warnings Preclude the Availability of a Misuse Defense."  Journal of Civil Litigation, Winter 2013-2014.
Defense Research Institute's Warnings and Recall Compendium, Virginia chapter, 2012 and 2018.
Getting Out of Dodge – Removal to Federal Court: A Defendant's Guide, Chapter contributor (Product Liability Advisory Council, April 2003).

Fraternities/Sororities