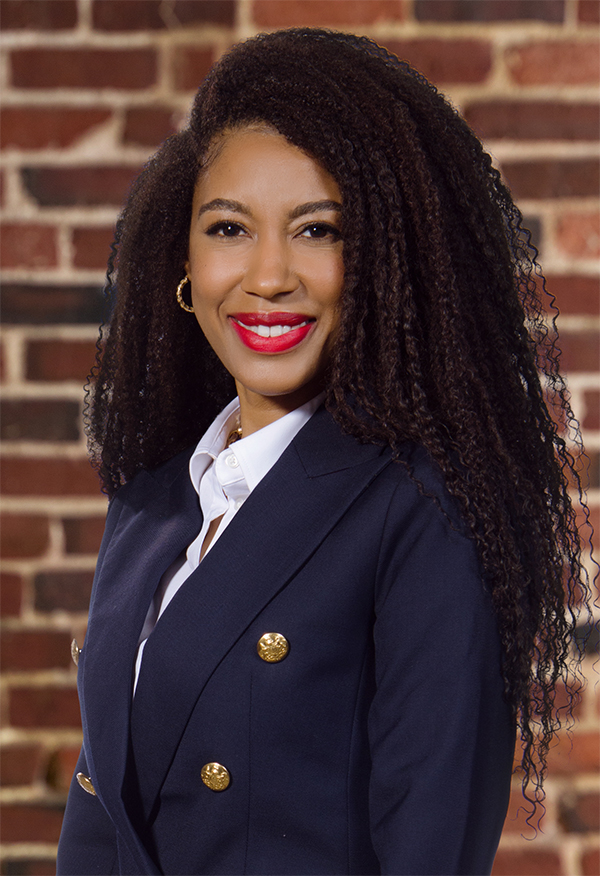 Shyrell A. Reed
Partner
1211 East Cary Street
Richmond, VA 23219
(804) 421-6250
(804) 421-6251 (fax)
sreed@moranreevesconn.com
Shyrell Reed focuses her practice on defending physicians, nurses, hospitals, dialysis centers, long-term care facilities, and other health care providers against medical malpractice, catastrophic injury, and wrongful death claims filed in both state and federal courts. With nearly 20 years of litigation experience, she has defended practitioners in virtually every medical specialty. She also represents health care providers in disciplinary matters pending before various state licensing boards of the Virginia Department of Health Professions.
Shyrell also defends other professionals against malpractice claims. Further, she defends premises liability and workplace injury claims.
On multiple occasions, Shyrell has been recognized for her trial successes in Virginia Lawyers Weekly's Million Dollar Defense Verdicts. Shyrell was chosen as a member of Virginia Lawyers Weekly's Influential Women of Law Class of 2022. She also has been  selected as a Virginia Super Lawyers Rising Star in the field of medical malpractice defense – a distinction presented to less than 2.5% of attorneys in Virginia.
In 2018, Shyrell was selected as a fellow for the Leadership Counsel on Legal Diversity, and she continues to participate as an alumnus of the program. Shyrell was MRC's first Chief Diversity, Equity, and Inclusion Officer, and previously served as Chair of the firm's Summer Associate Program.
Prior to joining Moran Reeves Conn, Shyrell served as an extern for the Honorable M. Margaret McKeown of the U.S. Court of Appeals for the Ninth Circuit, as well as an extern for The Honorable Monica J. Benton of the U.S. District Court for Western Washington. She also clerked for The Honorable Charles W. Mertel of King County Superior Court. Further, Shyrell has worked as a deputy prosecuting attorney for King County Prosecuting Attorney's Office, as well as a medical malpractice defense litigator at an Am Law 200 law firm.
Outside of the practice of law, Shyrell enjoys traveling outside of the country and immersing herself in different cultures.
Areas of Practice:
Healthcare Risk Management
Healthcare Licensing and Regulatory Matters
Medical Malpractice Defense
Professional Liability Defense
Workers' Compensation Defense
Premises Liability
Education

J.D., Seattle University School of Law, 2003
Phi Delta Phi; CALI Award for Academic Excellence in Legal Writing
B.A., Political Science, University of Connecticut, 2000

Bar Admissions

Court Admissions

U.S. District Court for the Western District of Virginia

U.S. District Court for the Eastern District of Virginia

U.S. Court of Appeals for the Fourth Circuit

Supreme Court of Virginia

Professional Memberships

The National Black Lawyers Top 100
Old Dominion Bar Association

Virginia Association of Defense Attorneys

Richmond Bar Association

Virginia State Bar

Virginia State Bar: Chair, Minority Pre-law Conference of the Virginia State Bar, Young Lawyers Conference, 2007

American Bar Association

Honors and Awards

Virginia Lawyers Weekly Influential Women of the Law, 2022
Virginia Super Lawyers Rising Star for Personal Injury Defense: Medical Malpractice, 2013-2019
Fellow of the Leadership Counsel on Legal Diversity, 2018

Speaking Engagements

Defensive Documentation, HCA Healthcre, Reston, Virginia (August, 2021)
Defensive Documentation, HCA Healthcare, Hopewell, Virginia (December, 2020)
An Overview of the Ethical Implications of Social Media (CLE), Hill Tucker Association, 2020

Community Service

Mentor for Leadership Council on Legal Diversity Success in law school mentoring program
Pro bono attorney for religious organization

Prior Employment

Partner, LeClairRyan, Richmond, Virginia, June 2007 – April 2019

Associate, Gentry Locke Rakes & Moore, Roanoke, Virginia, December 2005 – June 2007

Deputy Prosecuting Attorney, King County Prosecuting Attorney's Office, District Court Unit – Criminal Division, Seattle, Washington, August 2004 – March 2005

Clerkships and Internships

Law Clerk/Bailiff, The Honorable Charles W. Mertel, King County Superior Court, Judge, Seattle, Washington, August 2003 – August 2004

Rule 9 Law Clerk, Ronald A. Peterson Law Practice Clinic, Seattle, Washington, January 2003 – May 2003

Extern, The Honorable Monica J. Benton, U.S. Magistrate, U.S. District Court for Western Washington, Seattle, Washington, August 2002 – December 2002

Rule 9 Law Clerk, Washington State Attorney General's Office, Labor and Industries Division, Seattle, Washington, May 2002 – May 2003

Extern, The Honorable M. Margaret McKeown, Judge, U.S. Court of Appeals for the 9th Circuit, Seattle, Washington, June 2001 – July 2001

Representative Experience

Medical Malpractice Defense

Forced non-suit in the County of Chesterfield, Virginia against a hospital after arguing a Motion to Strike Plaintiff's Expert Designation and Motion for In Camera Review of Plaintiff's Written Expert Certification. The case involved allegations that hospital staff caused the traumatic removal of the plaintiff's Foley catheter after a cardiac bypass procedure.
Dismissal of an infectious disease physician on a renewed motion to strike at trial, and defense verdict of the remaining four defendant physicians in the City of Richmond, Virginia. Throughout the work-up of the case before trial, a dismissal of the hospital entities and multiple other physicians were obtained. The case involved allegations that the decedent's death was caused by the failure to diagnose and treat a CNS infection.
Dismissal of a suit in the City of Richmond, Virginia against an internist and physician assistant wherein the plaintiff alleged falsification of medical records and the unauthorized dissemination of protected health information. The plaintiff thereafter appealed to the Supreme Court of Virginia, but the Court found no reversible error in the judgment and refused plaintiff's petition for appeal.
Dismissal of a suit in the City of Richmond, Virginia against a hospital wherein the plaintiff alleged violation of various constitutional rights and negligence.
Multiple dismissals of suits in the City of Richmond, Virginia against a hospital wherein the plaintiff alleged falsification of medical records. The plaintiff appealed to the Supreme Court of Virginia, but the Court found no reversible error and refused plaintiff's petition for appeal.
Dismissal of a wrongful death suit in the County of Chesterfield, Virginia against a hospital and ultimate dismissal of the plaintiff's appeal to the Supreme Court of Virginia.
Dismissal of a suit in the City of Hopewell, Virginia against a hospital wherein the plaintiff alleged that the hospital failed to appropriately treat the plaintiff's infected finger and inappropriately discharged the plaintiff. The plaintiff thereafter appealed to the Supreme Court of Virginia, but later withdrew his appeal.
Forced non-suit and final dismissal of a suit in Henrico, Virginia against a nursing home after filing multiple dispositive motions. The case involved allegations that the decedent sustained a non-displaced tibial plateau fracture during a transfer and an improper discharge from the facility.
Forced non-suit and final dismissal of a suit in the County of Chesterfield, Virginia against a hospitalist after filing and arguing just before trial a Motion to Strike Plaintiff's Expert Witness Designation. The case involved allegations that the defendant failed to properly address, diagnose, and treat the decedent's pressure ulcers and infection that caused her death.
Defense verdict for an otolaryngologist and his practice group in Richmond, Virginia involving the allegations that defendants negligently caused an esophageal perforation and a myriad of other complications as a result of an attempted esophageal endoscopy.
Defense verdict for an urogynecologist and her medical group in Richmond, Virginia in which the plaintiff claimed defendants were negligent in not offering further surgery to improve her persistent post-surgery urinary retention and in not obtaining a second opinion outside of the defendant urogynecologist's medical group.
Plea of Sovereign Immunity sustained in the City of Richmond, Virginia on behalf of a nursing home administrator resulting in dismissal of the administrator from the case with prejudice.
Forced non-suit and final dismissal of a suit in the City of Colonial Heights, Virginia against a nursing home, administrator, and nurse after threatening to file a variety of pre-trial motions. The case involved allegations that the decedent sustained multiple fractures from a fall at the defendant nursing home and died the day after the fall.
Dismissal of a dental case with prejudice in Bowling Green, Virginia wherein the plaintiff alleged the defendant dentist was negligent during surgery of extractions of the plaintiff's teeth.
Forced non-suit and ultimate dismissal of a suit in Richmond, Virginia against a nursing home and nurse after filing various pre-trial motions. The case involved allegations that the defendants failed to appropriately monitor the decedent's medical condition, which led to her aspiration and death.
Defense verdict for a general surgeon in Hampton, Virginia in which a 72-year-old claimed that a subtotal colectomy was unwarranted to treat her two precancerous polyps. Plaintiff claimed the defendant did not obtain informed consent and the surgery caused her to suffer fistulas and chronic diarrhea and undergo additional surgeries.
Defense verdict for an emergency room physician in Hampton, Virginia involving the death of a 29-year-old who was stabbed by a "dragon sword" in the internal iliac artery.
Defense verdict in Mecklenburg, Virginia in an otolaryngology case alleging severe emotional distress from an unauthorized breast exam.
Defense verdict in Chesapeake, Virginia in a matter in which the plaintiff claimed a 69-year-old man died of liver failure from alleged toxicity from Crestor. Defendant did not order liver function testing as recommended by the Crestor package insert.

Publications

Workers' Compensation Laws: Virginia, Thompson Reuters Practical Law – Labor & Employment, November 14, 2018
Co-author, Recognizing Partner Abuse Torts: Consistent with Awarding Punitive Damages, Litigation News, Vol. XIII No. 2 (Spring 2006)