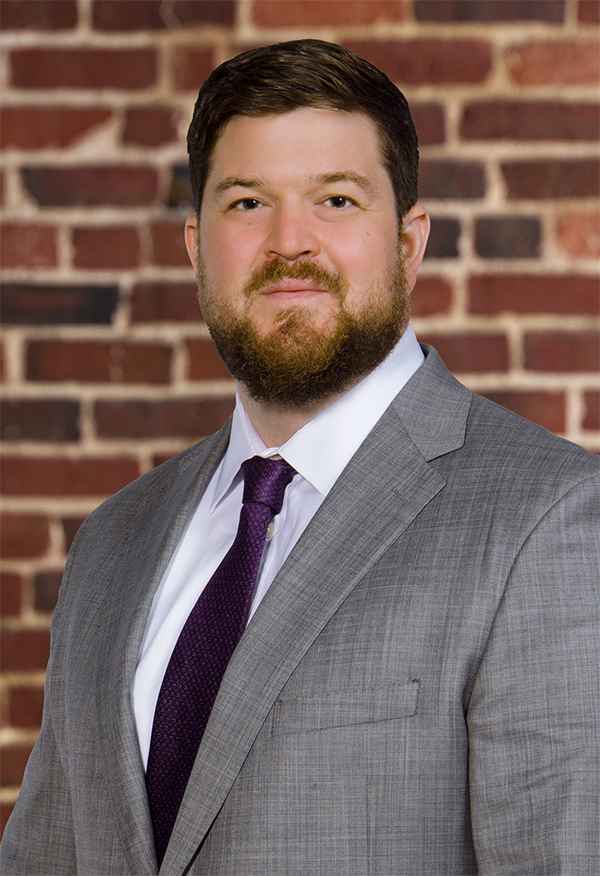 Stewart R. Pollock
Associate
1211 East Cary Street
Richmond, VA 23219
(804) 421-6250
(804) 421-6251 (fax)
spollock@moranreevesconn.com
Stewart Pollock practices in the firm's litigation section, where his work includes commercial litigation, product liability defense, breach of contract, and fraud cases. He has appeared in courts across the country on behalf of businesses, individuals, and government entities in the full range of simple to complex civil matters. Because of the broad scope of his practice areas, Stewart understands how claims or defenses asserted in one action may impact parallel litigation so that he can identify and anticipate consequences and develop a comprehensive, cost effective, and intentional litigation strategy at the outset of each case.
Stewart represents a diverse range of clients in cases involving personal injury, product defects, premises liability, construction litigation, and trade secret misappropriation. Whether it's a simple dispute for non-payment of invoices, environmental contamination, or multi-million dollar commercial property fraud claim, he has the experience necessary to vigorously litigate while guiding the client through the uncertainties of the legal process.
Stewart has also been successful with high-stakes complex civil litigation, including numerous class actions, multi-district litigation, and mass torts. Much of his practice at Moran Reeves Conn focuses on defending products liability claims, where he litigates high-profile cases involving auto, agricultural, and industrial component manufacturers in state and federal court. He has prepared multiple successful motions for class certification and drafted pleadings that became boilerplate as they were adopted by law firms across the country. At a personal level, he gets a lot of satisfaction from the intellectual challenges of litigating novel claims and defenses, whether it's a newly enacted statute, creative application of existing law, or highly technical cases involving cyber security, data breaches, and software vulnerabilities.
Stewart also represents small businesses, whether they're "mom-and-pop" shops, local contractors, or regional financial institutions. Stewart understands that not every case requires the resources appropriate for bet-the-company litigation; he will work to develop a strategy commensurate with the needs and risks of each individual case. At Moran Reeves Conn, Stewart is able to work with clients to develop creative and affordable fee structures tailored each specific client.
Stewart is part of MRC's emerging cannabis and commercial hemp practice and a founding board member of the Virginia Cannabis Industry Association. The firm is equipped to assist clients navigate the complex and constantly evolving state and federal regulations, whether you are directly involved in the industry as a cultivator, manufacturer, distributor, or laboratory or indirectly as a physician, investor, or lender.
Prior to joining Moran Reeves Conn, Stewart practiced in San Francisco, California at Cotchett, Pitre & McCarthy LLP, where his practice included products liability, personal injury, employment, and environmental cases, and later at Edelson PC, where he worked primarily on privacy, breach of contract, and fraud class actions involving emerging technologies.
Stewart is also involved with his local community. At MRC, he mentors summer associates, sharing his love of litigation and civil procedure with the upcoming generation of lawyers. He also volunteers with Central Virginia Legal Aid Society on landlord-tenant matters. Outside of the office, he enjoys powerlifting and exploring the Chesapeake Bay with his wife and daughter.
Education

J.D., cum laude, (International Law Concentration),  University of California, Hastings College of the Law

Pro Bono Society; Wiley Manuel Pro Bono Award
CALI/Witkin Award for Negotiation and Mediation
Jessup International Moot Court Competition, Regional Champions/International Quarterfinalist

B.A., History and Philosophy, University of Virginia

Bar Admissions

Commonwealth of Virginia
California Supreme Court
District of Columbia
District Court for the E.D. Virginia
District Court for the W.D. Virginia
District Court for the N.D. Illinois
District Court for the E.D. California
District Court for the C.D. California
District Court for the N.D. California
District Court for the S.D. California
Bankruptcy Court for the W.D. Virginia
Bankruptcy Court for the E.D. Virginia
U.S. Court of Appeals for the Ninth Circuit
U.S. Court of Appeals for the Fourth Circuit

Professional Affiliations

Virginia State Bar
Virginia Association of Defense Attorneys, Chair, Products Liability Section
California State Bar
Richmond Bar Association
Defense Research Institute
Virginia Cannabis Industry Association, Board Member and Officer
San Mateo County Trial Lawyers Association, Board of Directors 2015-2017
Central Virginia Legal Aid Society, Project Triage Volunteer

Publications

Cannabis and Products Liability Lawsuits, VADA Journal of Civil Litigation XXXIII, Vol. 4  (December, 2021)
Defending COVID-19 Personal Injury Claims, VADA Journal of Civil Litigation (2020)
A "Certifiable" Argument: Application for Certified Questions to the Supreme Court of Virginia Under Rule 5:40,  Virginia State Bar Litigation News, (January, 2019)
jannews2019
Product Liability Compendium: Warnings, Instructions and Recalls (Virginia Chapter), Defense Research Institute (2019)
Prosecuting Crimes Against Humanity, Daily Journal (August, 2015)
A Political Embarrassment: Jurisdiction and the ATS, FSIA, and Political Question Doctrine, CA Western Law Review (May, 2015)
Litigating Contagion: Vaccines, Exemptions, and Potential Liability, CAOC Forum (April, 2015)
The Balance of Effective Drone Regulation, Daily Journal (February, 2015)
Abuse of Immunity: Hospital Abuse of California Evidence Code § 1157 in Administrative Actions, CAOC Forum (February, 2014)
Refugees' Rights to Work, Forced Migration Review (September, 2013)
Obama Misses the Mark on Patent Trolls, Daily Journal (June, 2013)

Speaking Engagements

Budding' Cannabis Law from Four Perspectives: A 'Joint' Presentation from the Litigation, Criminal, Health, and Real Property Sections of the VSB, Virginia State Bar Annual Conference (June 2023)
Virginia Cannabis Law, Virginia Pain Society 4th Annual Conference (February 2023)
Moderator, Use of Experts in Products Liability Case, VADA Spring Seminar (May 2022)
Cannabis in Virginia: Products Liability, Workplace, and the Future, Roanoke Bar Association (May 2022)
The Role of the Paralegal at Trial, VADA Paralegal Seminar (Summer, 2021)
What Virginia Lawyers Need to Know about Cannabis Legalization, VADA Spring Meeting (Spring, 2021)
Defending COVID-19 Personal Injury Cases, VADA Annual Meeting (Fall, 2020)

Representative Cases

Yousufi v. Lyft Inc., No. 1:19-cv-922-LO-MSN, 2020 U.S. Dist. LEXIS 268523 (E.D. Va. Jan. 24, 2020)
Brand v. Guan Tang, 2016 Cal. Super. LEXIS 12275
Depaz v. Council of Co-Owners of the Westerlies Condo. Ass'n, No. 0228-22-4, 2022 Va. App. LEXIS 542 (Ct. App. Oct. 25, 2022)
Hanson v. MGM Resorts Int'l, No. C16-1661-RAJ, 2017 U.S. Dist. LEXIS 113690 (W.D. Wash. July 20, 2017)
Wakefield v. Visalus, Inc., No. 3:15-cv-01857-BR, 2017 U.S. Dist. LEXIS 228201 (D. Or. June 23, 2017)
Rasmussen Co. v. Cal. Franchise Tax Bd., 2017 Cal. Super. LEXIS 2683
Rockwell v. Bialer, 2016 Cal. Super. LEXIS 12064
Tyacke v. First Tenn. Bank, N.A., No. EDCV 16-00228-JGB (SPx), 2016 U.S. Dist. LEXIS 163285 (C.D. Cal. Apr. 28, 2016)
Dickey v. Advanced Micro Devices, Inc., No. 15-cv-04922-HSG, 2017 U.S. Dist. LEXIS 91759 (N.D. Cal. June 14, 2017)
Satchell v. Sonic Notify, Inc., 234 F. Supp. 3d 996 (N.D. Cal. 2017)
Holt v. Facebook, Inc., 240 F. Supp. 3d 1021 (N.D. Cal. 2017)

Honors and Awards

The Best Lawyers in America "Ones to Watch", 2024
Virginia Business Legal Elite (Business Law), 2020
Virginia Super Lawyers Rising Stars (Civil Litigation Defense), 2021-2022

Previous Employment

Edelson PC, 2016-2017
Cotchett, Pitre & McCarthy LLP, 2013-2016