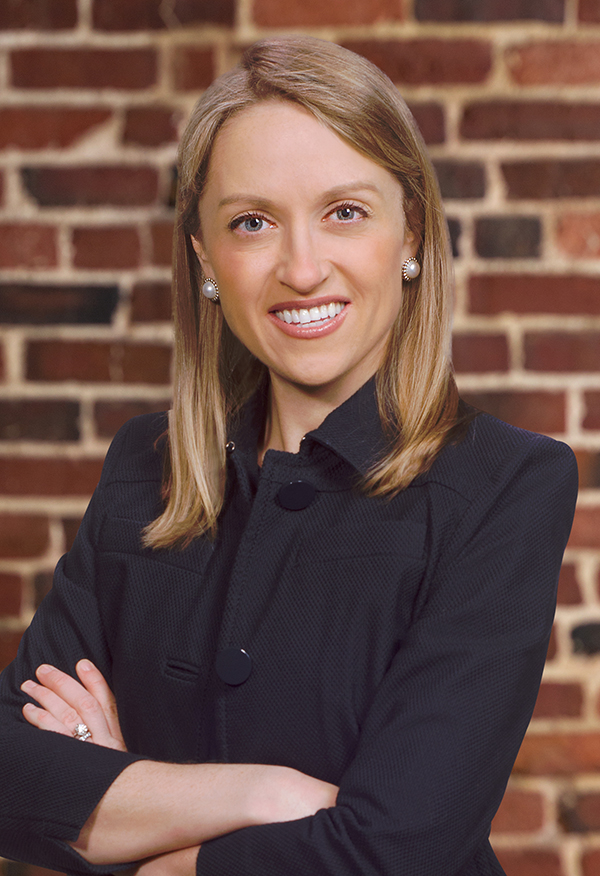 Taylor D. Brewer
Partner Chair, Pro Bono Program
1211 East Cary Street
Richmond, VA 23219
(804) 864-4805
(804) 421-6251 (fax)
tbrewer@moranreevesconn.com
Taylor Brewer concentrates her practice in complex litigation, including the defense of medical malpractice actions, hospital liability, risk management issues, and constitutional officer claims.
Taylor represents physicians, nurses, and other licensed health care providers, as well as corporate entities such as hospitals and private companies and practice groups. Her practice includes healthcare and hospital risk management and administrative matters, including representation before the Commonwealth of Virginia's health regulatory boards. She routinely advises clients on risk management and quality assurance matters. She has authored and is a national speaker on legal issues in correctional health care.
Prior to focusing her practice on the defense of health care providers, Taylor defended automobile liability cases for GEICO in Hampton Roads and Richmond. In her capacity as defense counsel for the company and its insured drivers, Taylor tried more than 100 bench trials and 13 jury trials in Virginia.
Taylor enjoys being involved in her local community. She serves on the Board of the Greater Richmond Bar Foundation, through which she represents pro bono victims of domestic and spousal abuse in obtaining protective orders. Taylor is on the Board of Directors of the Virginia Association of Defense Attorneys, currently acting as the Regional Director for greater Richmond. As well, she and her family are active members of Reveille United Methodist Church. Outside the office, Taylor enjoys running and spending time with her husband and three young children.
Areas of Practice:
Medical Malpractice Defense
Healthcare Licensing
Transportation Defense
Education

J.D., cum laude, University of South Carolina School of Law, Columbia, South Carolina, 2011
South Carolina Law Review, Editorial Board
CALI Award for the highest grade in: Health Law & Policy, Torts II, Criminal Procedure

National Trial Advocacy College, Charlottesville, Virginia

B.S., Psychology and Spanish, Davidson College, Davidson, North Carolina, 2008

University of Virginia in Valencia, Spain, Fall Semester 2007

Norfolk Academy, 2004

Bar Admissions

Virginia, 2011
U.S. District Court for the Eastern District of Virginia
U.S. District Court for the Western District of Virginia
United States Court of Appeals for the Fourth District

Professional Associations

Virginia Association of Defense Attorneys

Regional Director, Board of Directors, 2021-present
Member at Large, Board of Directors, 2019-2021
Chair, Medical Malpractice Section, 2018-2019
Vice Chair, Medical Malpractice Section, 2017-2018

Richmond Bar Association

Chair, Communications Committee, 2022-present
Communications Committee, 2020-21
Pro Bono Committee, 2016-18

Virginia State Bar

Chair, Young Lawyers Council Pro Bono Committee, 2022-present

Norfolk Portsmouth Bar Association, 2011-2015

Honors and Awards

Associate Fellow, Litigation Counsel of America
The Best Lawyers in America "Ones to Watch", 2021 – 2024
Virginia Super Lawyers Rising Stars, 2016 – 2023
Virginia Lawyers Weekly "Up and Coming Lawyers", 2011
Virginia Business Legal Elite, 2019, 2021

Speaking Engagements

CLE: Taking and Defending Depositions, Richmond Bar Association (September, 2023)

Trials 101: A Paralegal's Role in Trial Prep and Trial, Virginia Association of Defense Attorneys Paralegal Seminar (August, 2023)

Immunize Yourself and Your Facility from Lawsuits: Never Say Never, National Commission on Correctional Health Care Mental Health Conference, Washington, DC (July, 2023)

Keynote Speaker, Pro Bono Service and the Legal Community, University of Richmond School of Law Harry L. Carrico Center Pro Bono Certificate and Recognition Ceremony (May, 2023)

CLE: Pro Bono Protective Orders, Virginia State Bar's Young Lawyers Conference,  Professional Development Conference (May, 2023)

Lessons Learned in the Implementation of Medications for Opioid Use Disorder from Medical and Legal Perspectives, Virginia Association of Regional Jails Annual Meeting (April, 2023)

Summary Judgment, Guest Lecture at the University of Richmond School of Law, Richmond, Virginia (November, 2022)

Protecting Yourself and Your Facility from Litigation, National Commission on Correctional Health Care Annual Meeting, Las Vegas, Nevada (October, 2022)

CLE: Pro Bono Protective Orders, The Lewis F. Powell, Jr. American Inn of Court Meeting, Richmond, Virginia (October, 2022)

CLE: Pro Bono Protective Orders, The Greater Richmond Bar Foundation Annual Pro Bono Celebration, Richmond, Virginia (October, 2022)

Trials 101: A Paralegal's Role in Trial Prep and Trial, Virginia Association of Defense Attorneys Paralegal Seminar (August, 2022)

Intake Screening: How to Avoid Liability, National Commission on Correctional Health Care Annual Meeting (April, 2022)

Preventing Liability in the Correctional Setting, Virginia Association of Regional Jails Annual Meeting (March, 2022)

Written Discovery, Virginia Association of Defense Attorneys Young Lawyers Boot Camp, Richmond, Virginia (December, 2021)

Defensive Documentation and Litigation for Healthcare Providers, Sentara Healthcare, Virginia (November, 2020)

Written Discovery, Virginia Association of Defense Attorneys Young Lawyers Boot Camp, Richmond, Virginia (December, 2019)

Avoiding the "Reptile" Theory in Written Discovery and Depositions, Virginia Association of Defense Attorneys Annual Meeting, Norfolk, Virginia (October, 2019)

Trials 101: A Paralegal's Role in Trial Prep and Trial, Virginia Association of Defense Attorneys Paralegal Seminar, Richmond, Virginia (August, 2019)

Publications

To Avoid the Risk of Lawsuits … Never Say Never, CorrectCare, National Commission on Correctional Health Care, Volume 37, Issue 1 (Spring 2023)

Pro Bono Protective Orders: Benefitting You, Virginia Lawyer, Vol. 71, No. 3 (October 2022)

Providing Health Care for the Incarcerated, Medical Law Report, Vol. 18, No. 4 (July, 2021)

Confronting the Reptile in Virginia, 30 J. Civ. Litig. 187 (2018)

Community Service

Greater Richmond Bar Foundation, Board of Directors, 2020-present
Firms in Service, 2018-present
Norfolk Court Appointed Special Advocates, Board of Directors, 2012-2015
Cantabile Project, Board of Directors, 2012-2017
Norfolk Academy Young Alumni Committee, 2011-2017

Prior Employment

Goodman Allen Donnelly, Associate Attorney, 2015-2018
GEICO, Counsel, 2013 – 2015
Inman & Strickler, P.L.C, Associate Attorney, 2013
Kaufman & Canoles, P.C., Associate Attorney, 2011 – 2012