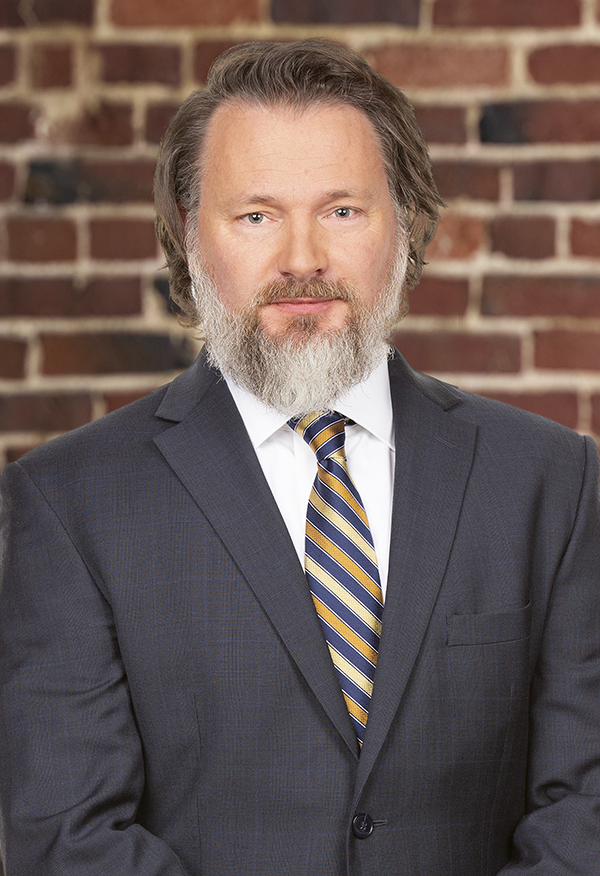 Eric G. Reeves
Vice President and Shareholder Member, Executive Committee
1211 East Cary Street
Richmond, VA 23219
(804) 864-4827
(804) 421-6251 (fax)
ereeves@moranreevesconn.com
Eric G. Reeves is a trial lawyer with over twenty-five years of experience representing corporate clients in a variety of complex litigation claims, with a focus in the fields of toxic tort claims, products liability, construction litigation and business and commercial disputes.
In addition to serving as trial counsel in a number of toxic tort cases taken to verdict, Eric serves as national coordinating counsel for product manufacturers in asbestos litigation, directing all aspects of the defense of hundreds of asbestos cases pending in courts across the country.  Eric also defends manufacturers and suppliers in more traditional products liability cases, with products ranging from exercise equipment and home appliances to trucks and heavy construction equipment.  His construction practice is broad and varied, representing owners and contractors in trials, mediations and arbitrations of cases involving contract disputes, delay damages claims, warranty and defective construction claims, as well as construction-related accidents.  Eric also represents small business owners and major corporate clients in a variety of commercial disputes involving UCC claims, supplier/distributor agreements, corporate matters (including successor liability and corporate veil-piercing claims), lease disputes and covenants not to compete.
Eric is licensed to practice in Virginia, West Virginia, Texas, Pennsylvania and the District of Columbia, and he frequently appears by pro hac vice admission in other state and federal courts across the nation.  He is an AV-rated lawyer, and also consistently has been recognized by his peers as a "Legal Elite" in the area of Civil Litigation by Virginia Business Magazine and as a Virginia Super Lawyer. Eric is listed in The Best Lawyers in America for Product Liability Litigation – Defendants.
Areas of Practice:
Toxic Torts
Products Liability
Construction Litigation
Commercial Disputes
Premises Liability
Bar Admissions

West Virginia, 1994
Virginia, 1995
District of Columbia, 1996
Texas, 2000
Pennsylvania, 2013
U.S. District Court Southern District of West Virginia, 1994
U.S. District Court Northern District of West Virginia, 1994
U.S. District Court Eastern District of Virginia, 1995
U.S. District Court Western District of Virginia, 1995
U.S. District Court Eastern District of Pennsylvania, 2022
U.S. Bankruptcy Court Eastern District of Virginia, 1995
U.S. Court of Appeals 4th Circuit
U.S. Supreme Court, 1999

Education

Washington and Lee University School of Law, Lexington, Virginia, 1994
J.D., Magna Cum Laude
Law Review: Washington and Lee Law Review, Executive Editor, 1994
The Citadel, 1991
B.A., Political Science, Magna Cum Laude

Professional Associations and Memberships

Defense Research Institute, Product Liability and Toxic Tort and Environmental Law Committees (former chair of DRI Toxic Tort Publications Committee)
Virginia State Bar, Member, Construction Law Section
Virginia Association of Defense Attorneys (former chair of Product Liability and Toxic Tort Section)
Virginia Bar Association, Member, Construction and Public Contracts Law Section
Richmond Bar Association
Trial Law Institute
Diversity Law Institute

Published Works

United States v. Javino: Reconsidering the Relationship of Customary International Law to Domestic Law, 50 Wash. and Lee L. Rev. 877, 1993

Representative Cases

Monongahela Power Co. v. Chief, Office of Water Resources, Div. of Environmental Protection, 211 W.Va. 619, 567 S.E.2d 629 (West Virginia Supreme Court 2002)
Apartment Inv. and Management Co. v. National Loan Investors, L.P., 258 Va. 322, 518 S.E.2d 627 (Virginia Supreme Court 1999)
Hubbard v. Henrico Ltd. Partnership, 255 Va. 335, 497 S.E.2d 335 (Virginia Supreme Court 1998)
O'Quinn v. CNH America LLC, 457 F. Supp. 2d 678 (U.S. District Court for the Eastern District of Virginia 2006)
John Crane, Inc. v. Hardick (Hardick I), 238 Va. 358, 722 S.E.2d 610 (Virginia Supreme Court 2012)
John Crane, Inc. v. Hardick (Hardick II), 284 Va. 358, 732 S.E.2d 1 (Virginia Supreme Court 2012)
Kiser v. A.W.Chesterton Co., 285 Va. 12 (2013) (Virginia Supreme Court 2013)

Classes/Seminars Taught

"Organizing the Organization:  Preparing and Defending Corporate Representative Depositions," The Virginia Association of Defense Attorneys, Annual Meeting, Virginia Beach Virginia (October 21, 2021)
"Ethical and Practical Considerations in the Joint Representation of Multiple Defendants in Asbestos Litigation," Perrin Asbestos Conference, San Francisco, California (September 27, 2017)
"Admissibility of Other Similar Incidents Evidence in Virginia," The Virginia Association of Defense Attorneys, Spring Meeting, Staunton, Virginia (May 8, 2015)
"Ethical Considerations in Products Liability Litigation: Spoilation of Evidence," Perrin Product Liability Conference, Miami, Florida (February 27, 2015)
"Recent Developments in Products Liability Litigation," The Virginia Association of Defense Attorneys, Fall Meeting, The Homestead, Virginia (October 14, 2010)
"Developments in Virginia Asbestos Litigation," The Virginia Association of Defense Attorneys, Spring Meeting, Richmond, Virginia (May 14, 2010)

Honors and Awards

The Best Lawyers in America (2018-present)
Virginia Super Lawyers (2009-present)
Virginia Business Magazine, "Legal Elite," Civil Litigation (2010-15)
Martindale-Hubbell, AV Rated
Fellow, Litigation Council of America
Barrister, Order of Juris
Advocate, Order of Certus

Past Employment Positions

Hunton & Williams, Richmond, Virginia, (Litigation Team) Associate, 1996 – 2002
Wallace & Harris, Elkins, West Virginia, Associate, 1994 – 1996